Toyota Decatur Dealer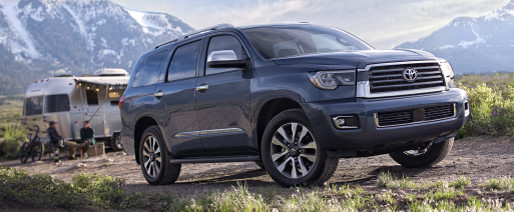 At our Toyota dealer near Decatur, AL, you'll find it easy to locate a model that fits your needs whether that means a spacious SUV with configurable seating, a hearty truck with ample towing and payload, or a sleek sedan that's fun and efficient to drive. As you begin browsing through our inventory, you can compare and contrast traits side-by-side.
Bill Penney Toyota also touts a premier service center and a friendly financial department where we can customize your payment plan. To learn more about us, just keep reading!
Visiting Decatur AL
The rustic, rural charm of Decatur, AL, fits this small town just right and visiting tourists will appreciate the homey downtown area and abundance of nearby activities.
Many of these activities center around the great outdoors. Campsites, for instance, are scattered throughout the area, giving you plenty of different options to choose from. There's also a variety of paths that are ideal for running, hiking, or walking.
Downtown, you'll find a host of southern eateries that deliver authentic dishes and personable service.
If you think Decatur, AL, is the place to go, then consider getting your favorite Toyota model and scheduling a long weekend visit!
About Our Toyota Inventory
You'll find plenty of diverse options when you begin looking through our Toyota model inventory either online or at our showroom.
The Toyota Tacoma, for example, is a capable truck that handles off-road trails, taxing construction work, and weekend projects with similar ease.
If you're searching for another choice that's rugged yet more family-oriented, the Toyota 4Runner makes a lot of sense. This hulking SUV is also capable of exploring unconquered terrain yet it touts a versatile cabin too, giving you the chance to bring along a host of passengers and their cargo.
For compact choices, the Toyota Corolla and Toyota Camry each display high-end fuel efficiency with fun-to-drive performance dynamics.
Setting Up Your Toyota Financial Plan

Setting up a financial plan for your Toyota model is simple. Our team of experts will be by your side ready to answer questions, deliver feedback, and ultimately ensure the structure being put into place is in your best interest.
If you're considering a loan, we'll assist with this, too. There's also the option to get started online at any time. We have accessible tools like the pre-approval form and trade-in calculator that will help you get a jumpstart on the whole process.
State-of-the-Art Service Facility
Routine service is a good way to ensure your Toyota model thrives well into old age. At our on-site facility, we work with modernized equipment to achieve the proper results.
We have a range of specials and discounts you can take advantage of as well. Want to schedule an appointment? Use our online scheduler tool!
Visit Our Toyota Dealership
If you visit our Toyota dealership near Decatur, AL, with a particular model in mind, we'll happily schedule your test drive. So, get in touch with Bill Penney Toyota today!
Testimonials
Ramsee was awesome!! I highly recommend him and Bill...
2-3-2020
Honest and transparent!
1-5-2020
Very Helpful
12-16-2019
Great service
1-31-2020
Dodge Challenger Experience
12-12-2019
EXCEPTIONAL SERVICE
8-15-2019
Best experience
8-11-2019
new car
7-31-2019
2017 Toyota Tundra
7-11-2019
Totally loved our experience
7-9-2019
Excellent Service
5-20-2019
Thank You you went over and above
5-2-2019
Loyal Customer
4-8-2019
Great service!
3-4-2019
Most professional sales staff I ever encountered
2-16-2019
Customer Testimonial
2-1-2019
Trell
1-9-2019
Great service!!!
1-8-2019
Awesome Dealership
11-7-2018
Jose is awesome
9-17-2018
Read More
New Car Sales Hours
(256) 270-2289
| | |
| --- | --- |
| Monday | 8:30 am - 7:30 pm |
| Tuesday | 8:30 am - 7:30 pm |
| Wednesday | 8:30 am - 7:30 pm |
| Thursday | 8:30 am - 7:30 pm |
| Friday | 8:30 am - 7:30 pm |
| Saturday | 9:00 am - 7:30 pm |
| Sunday | Closed |
Accessories Hours
256-837-1111
| | |
| --- | --- |
| Monday | 9:00 am - 7:00 pm |
| Tuesday | 9:00 am - 7:00 pm |
| Wednesday | 9:00 am - 7:00 pm |
| Thursday | 9:00 am - 7:00 pm |
| Friday | 9:00 am - 7:00 pm |
| Saturday | 9:00 am - 7:00 pm |
| Sunday | Closed |
Service Hours
(256) 801-7959
| | |
| --- | --- |
| Monday | 7:00 am - 11:00 pm |
| Tuesday | 7:00 am - 11:00 pm |
| Wednesday | 7:00 am - 11:00 pm |
| Thursday | 7:00 am - 11:00 pm |
| Friday | 7:00 am - 6:00 pm |
| Saturday | 8:00 am - 4:00 pm |
| Sunday | Closed |
Parts Hours
(256) 837-1991
| | |
| --- | --- |
| Monday | 7:00 am - 11:00 pm |
| Tuesday | 7:00 am - 11:00 pm |
| Wednesday | 7:00 am - 11:00 pm |
| Thursday | 7:00 am - 11:00 pm |
| Friday | 7:00 am - 6:00 pm |
| Saturday | 8:00 am - 4:00 pm |
| Sunday | Closed |
Body Shop Hours
256-562-0164
| | |
| --- | --- |
| Monday | 7:00 am - 6:00 pm |
| Tuesday | 7:00 am - 6:00 pm |
| Wednesday | 7:00 am - 6:00 pm |
| Thursday | 7:00 am - 6:00 pm |
| Friday | 7:00 am - 6:00 pm |
| Saturday | Closed |
| Sunday | Closed |