Toyota RAV4 Reviews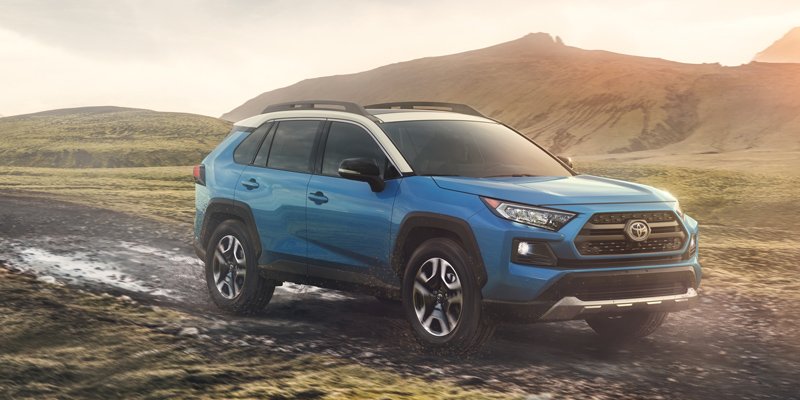 Since its debut, the Toyota RAV4 has been a favorite among SUV drivers across the country. This vehicle's impressive power output, efficiency, interior space, and large menu of features make it a smart choice for adventurers and commuters alike.
On this page, we at Bill Penney Toyota will introduce you the many different things that make this model stand out. Shoppers in Huntsville, Athens, and Elkmont should read ahead to learn more about our helpful Toyota RAV4 resources and to see what this SUV is all about!
Total Passenger Space

5 passengers; 102 total cubic feet

Front / Rear Legroom

42.6 inches / 37.2 inches

Standard / Maximum Cargo Space

38.4 cubic feet / 73.4 cubic feet

EPA-estimated Fuel Economy

23 – 34 city / 30 highway MPG1

Power Output

176 horsepower / 172 lb-ft of torque

Towing Capabilities:

3,500 pounds when properly equipped

Active Safety Systems

Toyota Safety Sense™ P
Star Safety Sense™

Blind Sport Monitor & Rear Cross-Traffic Alert
Our Toyota RAV4 Resources
Researching your next vehicle can seem like a daunting task if you have to look all over the internet for the information that you need. We take the hassle and the stress out of the research process by providing you with all the information you need in one convenient place.
The Toyota RAV4 reviews that you'll find on this page are designed to introduce you to every aspect of this incredible vehicle. We'll go over a wide variety of topics on top of what we've already introduced to you above. Armed with the information you'll find in our detailed and comprehensive RAV4 resources, you'll be able to determine if this model is a good fit for your lifestyle.
2020 Toyota RAV4 TDR Off-Road Preview
Ready to Get Started?
Now that you have a better idea of what our Toyota RAV4 resource library has to offer, we hope you're ready to dive in and get started on your research. When shoppers in the areas of Huntsville, Athens, and Elkmont are ready to take a test drive of the Toyota RAV4, just give us a call and we'll get you scheduled for one!
1 2018 EPA-estimated mileage. Actual mileage will vary.
Current Inventory
2020 Toyota RAV4 XLE 4dr SUV for Sale
More Information +
Less Information -
12 miles, Regular Unleaded I-4 2.5 L/152, MPG City: 26 MPG Hwy: 35***, 4DR, Black Exterior, Ivory Interior, 8-SPEED AUTOMATIC W/OD
| | |
| --- | --- |
| Mileage | 12 |
| Trim | XLE |
| Stock # | 20T0515 |
| VIN | 2T3W1RFV1LW058827 |
| Exterior Color | Black |
| Interior Color | Ivory |
| Drivetrain | FWD |
MSRP

All MSRPs include Appearance Package of $899 with Mats, Nitrogen, and Window Tint.

$29,876

Penney Price

Locked
MSRP

All MSRPs include Appearance Package of $899 with Mats, Nitrogen, and Window Tint.

$29,876

Penney Price

$27,466
Unsubscribe
Sign Up For Price Drop Alerts
More Information +
Less Information -
12 miles, Regular Unleaded I-4 2.5 L/152, MPG City: 26 MPG Hwy: 35***, 4DR, Blue Exterior, 8-SPEED AUTOMATIC W/OD
| | |
| --- | --- |
| Mileage | 12 |
| Trim | XLE |
| Stock # | DT20T1068 |
| VIN | 2T3W1RFV7LW065913 |
| Exterior Color | Blue |
| Interior Color | |
| Drivetrain | FWD |
MSRP

All MSRPs include Appearance Package of $899 with Mats, Nitrogen, and Window Tint.

$31,759

Penney Price

Locked
MSRP

All MSRPs include Appearance Package of $899 with Mats, Nitrogen, and Window Tint.

$31,759

Penney Price

$30,219
Unsubscribe
Sign Up For Price Drop Alerts
More Information +
Less Information -
12 miles, Regular Unleaded I-4 2.5 L/152, MPG City: 26 MPG Hwy: 35***, 4DR, White Exterior, Pebble Beige Interior, 8-SPEED AUTOMATIC W/OD
| | |
| --- | --- |
| Mileage | 12 |
| Trim | XLE |
| Stock # | 20T1190 |
| VIN | 2T3W1RFV1LC054228 |
| Exterior Color | White |
| Interior Color | Pebble Beige |
| Drivetrain | FWD |
MSRP

All MSRPs include Appearance Package of $899 with Mats, Nitrogen, and Window Tint.

$29,337

Penney Price

Locked
MSRP

All MSRPs include Appearance Package of $899 with Mats, Nitrogen, and Window Tint.

$29,337

Penney Price

$26,998
Unsubscribe
Sign Up For Price Drop Alerts
More Information +
Less Information -
12 miles, Regular Unleaded I-4 2.5 L/152, MPG City: 26 MPG Hwy: 35***, 4DR, Green Exterior, Black Interior, 8-SPEED AUTOMATIC W/OD
| | |
| --- | --- |
| Mileage | 12 |
| Trim | XLE |
| Stock # | 20T1191 |
| VIN | 2T3W1RFV1LC054391 |
| Exterior Color | Green |
| Interior Color | Black |
| Drivetrain | FWD |
MSRP

All MSRPs include Appearance Package of $899 with Mats, Nitrogen, and Window Tint.

$31,301

Penney Price

Locked
MSRP

All MSRPs include Appearance Package of $899 with Mats, Nitrogen, and Window Tint.

$31,301

Penney Price

$29,998
Unsubscribe
Sign Up For Price Drop Alerts
More Information +
Less Information -
11 miles, Regular Unleaded I-4 2.5 L/152, MPG City: 26 MPG Hwy: 35***, 4DR, Gray Exterior, Ivory Interior, 8-SPEED AUTOMATIC W/OD
| | |
| --- | --- |
| Mileage | 11 |
| Trim | XLE |
| Stock # | 20T1228 |
| VIN | 2T3W1RFV1LC055475 |
| Exterior Color | Gray |
| Interior Color | Ivory |
| Drivetrain | FWD |
MSRP

All MSRPs include Appearance Package of $899 with Mats, Nitrogen, and Window Tint.

$30,602
MSRP

All MSRPs include Appearance Package of $899 with Mats, Nitrogen, and Window Tint.

$30,602
Unsubscribe
Sign Up For Price Drop Alerts
More Information +
Less Information -
11 miles, Regular Unleaded I-4 2.5 L/152, MPG City: 26 MPG Hwy: 35***, 4DR, Blue Exterior, Ivory Interior, 8-SPEED AUTOMATIC W/OD
| | |
| --- | --- |
| Mileage | 11 |
| Trim | XLE |
| Stock # | 20T1244 |
| VIN | 2T3W1RFV3LC055610 |
| Exterior Color | Blue |
| Interior Color | Ivory |
| Drivetrain | FWD |
MSRP

All MSRPs include Appearance Package of $899 with Mats, Nitrogen, and Window Tint.

$31,301
MSRP

All MSRPs include Appearance Package of $899 with Mats, Nitrogen, and Window Tint.

$31,301
Unsubscribe
Sign Up For Price Drop Alerts
New Car Sales Hours
(256) 203-6188
| | |
| --- | --- |
| Monday | 8:30 am - 7:30 pm |
| Tuesday | 8:30 am - 7:30 pm |
| Wednesday | 8:30 am - 7:30 pm |
| Thursday | 8:30 am - 7:30 pm |
| Friday | 8:30 am - 7:30 pm |
| Saturday | 9:00 am - 7:30 pm |
| Sunday | Closed |
Accessories Hours
256-837-1111
| | |
| --- | --- |
| Monday | 9:00 am - 7:00 pm |
| Tuesday | 9:00 am - 7:00 pm |
| Wednesday | 9:00 am - 7:00 pm |
| Thursday | 9:00 am - 7:00 pm |
| Friday | 9:00 am - 7:00 pm |
| Saturday | 9:00 am - 7:00 pm |
| Sunday | Closed |
Service Hours
(256) 206-3819
| | |
| --- | --- |
| Monday | 7:00 am - 11:00 pm |
| Tuesday | 7:00 am - 11:00 pm |
| Wednesday | 7:00 am - 11:00 pm |
| Thursday | 7:00 am - 11:00 pm |
| Friday | 7:00 am - 6:00 pm |
| Saturday | 7:00 am - 4:30 pm |
| Sunday | Closed |
Parts Hours
(256) 837-1991
| | |
| --- | --- |
| Monday | 7:00 am - 11:00 pm |
| Tuesday | 7:00 am - 11:00 pm |
| Wednesday | 7:00 am - 11:00 pm |
| Thursday | 7:00 am - 11:00 pm |
| Friday | 7:00 am - 6:00 pm |
| Saturday | 7:00 am - 4:30 pm |
| Sunday | Closed |
Body Shop Hours
256-562-0164
| | |
| --- | --- |
| Monday | 7:00 am - 6:00 pm |
| Tuesday | 7:00 am - 6:00 pm |
| Wednesday | 7:00 am - 6:00 pm |
| Thursday | 7:00 am - 6:00 pm |
| Friday | 7:00 am - 6:00 pm |
| Saturday | Closed |
| Sunday | Closed |